5 Tips to Help Your Sales Team Improve Revenue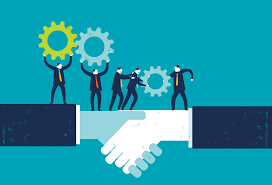 Business can be defined as a commercial entity that profits by providing goods or services in exchange for resources. The word resources can mean many things, including items of value, credits, other services, and, of course, money.
No matter whether your business is a service, manufacturing, or retail, and no matter how big or small your commercial enterprise is, having a business is all about having clients and successfully delivering your services to them. Because without clients, you won't have profit.
So, it's pretty self-evident that acquiring new clients is essential if you want your company and subsequentially your revenue to grow. Unless you have a business only for the sake of having a business, then you need clients.
That's where the performance of your sales team comes in. If your sales team is proficient and successful, then your business will be blooming, the revenue will skyrocket, and more and more customers will be interested in your products or services.
However, if your sales team provides unsatisfactory results, your business results may deteriorate. If you need some helpful recommendations on how to help your sales team improve its performance and company's revenue, check out the tips below.
 It's All About the Sales Team
So, what influences the performance of the team? The aspects include the overall business structure, interdepartmental collaboration, established relations and atmosphere within the sales team, and, last but not least, the management of the team.
All of the points are interconnected, meaning if you address and change one of the aspects, it would affect every other one. These aspects include:
The sales department is disorganized. Lack of good business focus, straightforward directives, and company policies can make even the strongest sales team underperforming.
Sales team members perform work incorrectly. Wrong leadership and management can eventually bring team spirit down and make the members of the sales team unmotivated.
The sales team's environment is toxic. If unmanaged, the atmosphere within the team can go wrong, for example, with the older employees having prejudices towards new members of the team. Additionally, if you put unrealistic quotas on the team, the inside politics will turn hostile very quickly.
Sales and marketing departments are continually bickering. In your business, you have to facilitate and supervise the interdepartmental communication. Both sales and marketing are customer-focused teams where one executes while the other plans. So, both departments may have differing thoughts on how to establish customer communication well and, thus, eventually confront one another.
 5 Tips to Consider Regarding Sales Team Performance
If you want to lead your team successfully and tackle all the existing and potential problems, check out the following tips. By implementing these recommendations, you will see an improvement in the performance of your sales team.
 Emphasize Sales Planning
Your sales plan is basically the roadmap of sales department management. It has to clearly state team goals, processes, and strategies.
Additionally, it should contain guidelines on how you define successful performance. Having a well-established sales plan will help you to see what aspects of sales operations need improvement.
A good sales plan tells the sales team members about the target demographic and informs them about the overall business objectives. Also, it provides a system for measuring the success of each team member weekly.
 Add Sales Analytics to the Mix
Sales metrics and statistics communicate relevant data about sales performance. Sales analytics shouldn't be really separated from sales plans. Without the program to compare the results with, you will be just looking at tons of data, not knowing how to make sense of it all.
When sales metrics are initially created with the parameters defined by the sales plan, then you will receive a comprehensive insight into your sales operations. It will help you with managing the sales team members efficiently, monitoring the execution of the sales objectives, and identifying problematic areas.
 Use Small Business CRM
Client Relationship Management (CRM) systems are valuable tools in the sales world. Such software allows for easy management of leads, clients, partners, and sales opportunities. CRM can automate a lot of operations and simplify communication within the company.
With its help, the process of understanding client queries and contacting them becomes much easier for the sales team. It is because all the relevant information gets stored in one place. Additionally, CRM is a great and easy way to collect sales metrics.
 Invest in Content Marketing
Usually, it's much more comfortable when the client comes ready to buy your goods or services rather than having the sales team search out for potential clients and try to convert them. So, it is important to create a strong online presence of your company so that you frequently show up in searches.
One of the best-working ways is to invest in digital content marketing. According to Digital Authority, SEO and SEM are both very useful approaches in making an online name for your business.
However, you shouldn't only concentrate on technical aspects of SEO like mobile readiness, domain authority, page load speeds, and keyword usage. The content on the site should entertain and captivate visitors on its own.
By substantially investing in content creation and content marketing, you will help your sales team. The stronger your online presence, the easier it would be for them to nurture leads.
 Never Forget About the Team
Many sales team leaders forget that heading the sales department is not only a numbers game but also a team-building game. You have to be able to manage the team competently or entrust the managing part to someone proficient in this area.
Sales team members are unique employees. You should avoid making too many rules for them. Sometimes, it's best to let them do what they're best at, and don't forget to recognize their efforts.
 To Sum Up
Managing a sales team comes with a lot of nuances, and a well-performing sales department is extremely important for the overall success of your company. Failing to manage the sales team members right can result in the deterioration of your revenue, as well as a drop in sales metrics.
So, you should implement all available aspects of sales operations to establish a sustainable environment of productivity and efficacy for your sales team. This way, you will help your employees to make their efforts to improve results and revenue.